Sustainable practices

We put sustainability at the core of everything we do. We invest in green building infrastructure to minimize our waste, water, and energy footprints. By providing on-the-job training and opportunities for growth, we also invest in the people who make this revolution possible.
We put sustainability at the core of everything we do. We invest in green building infrastructure to minimize our waste, water, and energy footprints. By providing on-the-job training and opportunities for growth, we also invest in the people who make this revolution possible.
The Sustainability Report
Big companies report their profits in quarterly earnings reports. We think companies should be accountable for more than just profits. That's why we send you guys our quarterly sustainability report so we can track our progress together. Sign up for our newsletters to get these in your email, or read our 2016 report, 2017 report, 2018 report, 2019 report, and 2020 report.
RefScale
At Reformation we think about all the costs in creating fashion—not just the price tag. RefScale tracks our environmental footprint by adding up the pounds of carbon dioxide emitted and gallons of water we use, and pounds of waste we generate. Then we calculate how Reformation's products help reduce these impacts compared with most clothes bought in the US. We share this information on every product page of our website and tell you exactly what impact each garment has on the environment. This way we all get to see the total cost of fashion so you can make empowered choices, and we can keep creating better solutions when it comes to making clothes.
How it works
It's all about math, and we're super into it. The whole equation follows the lifecycle of clothes—everything from growing textile fibers and making fabric, dyeing, moving materials, manufacturing, packaging, shipping, garment care, and even recycling clothes when you're done with them.
The totals
We also publish the totals for all the resources we used, saved, and offset. We can't wait to see how all those little costs add up and actually make a big difference in the RefScale. Read all about the details and methodology.
Offsets
It's not enough just to manufacture sustainably, so we also invest in programs that replace some of the resources we've spent, which is where offsets come in. We've partnered with Native Energy and the Bonneville Environmental Foundation (BEF) Water Restoration Program to help put back some of the resources we used. In exchange for the emissions, water, and waste our clothes used in 2019 we supported a project in India that encouraged the use of clean energy, helped install water filters for houses in Honduras, and contributed 140 million gallons of freshwater to critically dewatered rivers and wetlands in California. Kinda like Venmo, but for the Earth.

We're Climate Neutral
Our stuff has been 100% carbon-neutral since 2015, but now we work with the non-profit organization Climate Neutral to make it official. Through their rigorous certification program, they verify that we've achieved net-zero carbon emissions. It's basically like getting a fancy seal of approval.
Energy-efficiency
We source electricity offsets from 100% wind power suppliers and use LED lighting and Energy Star-rated appliances in our offices.
Recycling
We recycle, compost organic wastes, and recycle or donate our textile scraps whenever possible. Zero waste is our goal. Right now, we recycle about 75% of all our garbage. Our goal is to reach over 85%. Every little thing adds up.
Our team
Over three-quarters of Reformation's management team are women or people from underrepresented populations.
Benefits
We recently updated our benefits package for hourly Ref employees, increased holiday and vacation time for hourly team members, and provided volunteer time off for all employees. We also provide health benefits to all full-time employees including our manufacturing team. And we've made getting to work part of our mission by offering Metro passes to our entire HQ team to encourage more use of public transportation.
E-commerce
On average, e-commerce uses about 30% less energy than traditional retail. Good news because the majority of our customers use our online site to make purchases (we're all for never getting out of bed either). We also calculate the carbon footprint of our web server and your screen's energy demand while browsing the Ref website. And yes, we offset that too!
Hangers & totes
Typical hangers are made of plastic or metal and have the lifespan of only 3 months. We use recycled paper hangers to lessen the demand for new materials and to keep junk from landfills. Americans toss 102 billion plastic bags a year. We opt for reusable totes because they lighten the load. Plus they're way cuter.
Green building
It's our mission to design innovative and eco stores. We incorporate materials like LED fixtures, rammed earth, recycled fabric insulation, and other stuff to make our stores as sustainable as possible. We also calculate the construction footprint, and offset our store builds 100%.
Six of our California retail stores (Platform, Melrose, Vintage Melrose, Santa Monica, Fillmore, Valencia) and HQ West are now green business certified, which basically means we're operating using strategies that improve energy savings, water efficiency, resource stewardship, and reducing CO2 emissions. You know, all the good stuff. We're super proud and happy to be part of the green business community of Los Angeles and San Francisco, as well as the California Green Business Network. Learn more about it at the California Green Business Network website.
Sustainable purchasing
Reformation is committed to minimizing our environmental impact and achieving fair, safe and healthy working conditions throughout our supply chain. We seek to partner with suppliers who share a common vision of sustainability, accountability and transparency. We currently require that suppliers meet our standards for: social responsibility, safe & non-toxic, and better materials.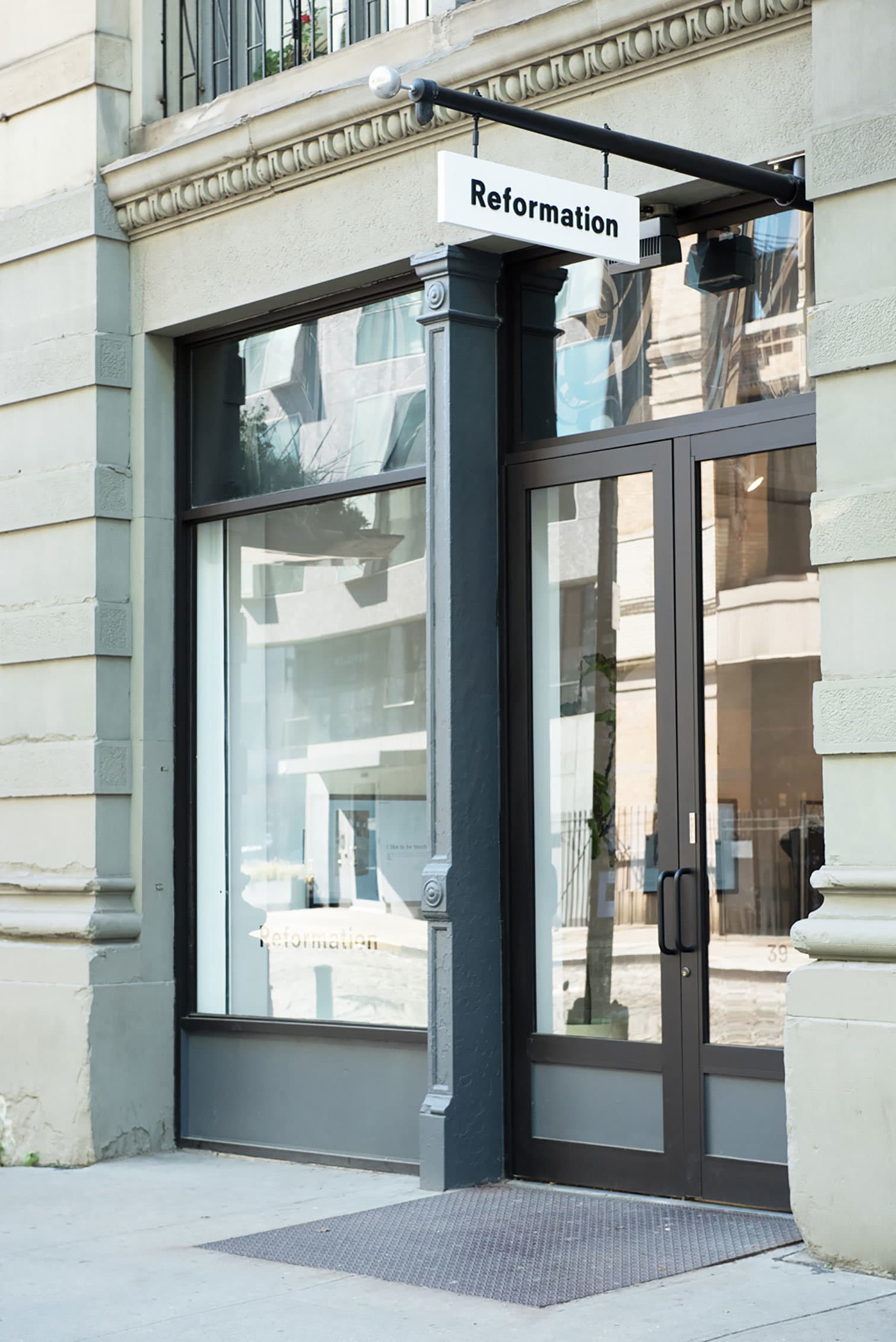 Local manufacturing
Over ~40% of our cutting and sewing is done in Los Angeles and we manufacture many of our products in our own factory (depending on the season and the styles we're making that week). All other garments are produced by responsible manufacturing partners here in the U.S. or abroad using our same sustainable standards and materials.
Dyeing & Finishing
The dyeing stage in textile manufacturing not only uses a lot of energy and water, but it also introduces the fabric to chemicals found in inks and pigments. We test all of our stuff against our Restricted Substance List (RSL) to confirm there are no hazardous substances in our products and to ensure our products are safe, and comply with international laws. Our RSL is based on the AFIRM Group industry level standards. This list applies to raw materials, finished goods and its concentrations. Download the full version of our RSL with concentration limits here.
In addition to testing all of our stuff against our RSL we currently try and work with dye houses and printers that have the following certified dying systems.
BLUESIGN® system
With an A+ grade in textile dyeing, Bluesign certified dyeing facilities only use safe input chemicals, monitor their air and water emissions and ensure worker safety so that the dyed fabric is safe for the end user, workers and the environment. As of 2017, all of Reformation solid silk and velvet is Bluesign certified. 
OEKO-TEX® Standard 100
Similar to Bluesign, Oekotex also checks for the presence of hazardous chemicals in the dyed fabric. It checks for carcinogens, azo dyes and other chemical limits in accordance to the European REACH standards.

Supplies
A business uses a ton of stuff. To manage our impact, we adopted Environmentally Preferred Purchasing policies across all our operations for things like office and cleaning supplies, shipping materials, and manufacturing equipment. We prioritize products with recycled-content, and opt for solutions that are recyclable or biodegradable. We also use green cleaning products whenever possible.
Packaging
Right now, we have a couple different bags in circulation. Some are 100% compostable bags made of bio-based materials. But since composting in the US isn't quite there yet in terms of accessibility, we've switched to 100% recycled LDPE bags with a biodegradable polymer (BDP) that allows it to break down in landfills. Just an FYI – you might still get a compostable bag until we fully phase them out.
Service & community
We think it's pretty cool when you have a positive impact on your community so we offer incentives for our employees to lend a hand to their community. Some causes are best served simply by donating some cash money, so we do that too when it makes sense.
Service days
We provide our staff with four paid days off per year to volunteer. Two of which are company-wide service days and the other two are left for employees to volunteer for causes they are passionate about. We also regularly highlight volunteer opportunities to make giving back a little more doable. In the past we've organized a beach clean-up at Playa Del Rey and spent a day volunteering with Kiss the Ground, a non-profit organization that focuses on regenerative agriculture.
Relief Fund
We created the Reformation Relief Fund to provide short-term support to our team members facing significant financial hardship. Through the fund, any employee can request tangible aid, or lend a helping hand to colleagues who need it, all within the Ref community.


Staff birthdays
We celebrate staff birthdays by donating to TreePeople, an organization that supports urban forests in LA by planting a tree in their name. 
Collaborations
We also give back through sustainability-focused collaborations and initiatives like our launches with Blueland and New Balance that furthered our mission to bring sustainable lifestyle choices to everyone. In 2020, we partnered with The City of Los Angeles on LA Protects, an initiative to organize local manufacturers to make five million non-medical masks for brave people doing essential work during COVID-19, ensuring medical grade masks can be available to healthcare workers.